I have visited Ayub National Park several times in childhood and until recently in 2012. Locally called Ayub Park, it covers a large area housing a zoo, several ponds with water sports activities, gardens, several picnic spots, an auditorium nearby, pedestrian and jogging tracks and artificial ghost house with sound and lightening effects.
The area is historically famous as Topi Rakh and the park is currently being managed by Army Heritage Foundation (AHF) although previously it was taken care of by the Rawalpindi Cantonment Board (RCB).
The park has more than one entrances but lately, I was able to enter the park through the Topi Rakh auditorium side which lies on the Grand Trunk (GT) road. It was a weekend holiday so families were pouring  in and the majority of individuals were excited children most probably siblings or cousins belonging to different age groups arguing which activity needs immediate attention.
On entering the park I witnessed a large parking area which took a few minutes to cross. Then came the Jungle barracks, where tanks and barracks were on display probably for the camping activities or children's play. It is best to have a day off and wear comfy shoes when intending to visit the park and explore all of its vicinity because you can expect a lot walking, luckily I had done both.
After crossing the barracks and a pond partly covered with lilies one can shift on the jogging track for a natural scenery of the park. It is said that the shady walking paths, gardens, and lakes cover about 900 hectares of area. I found the natural park quiet sublime covered with tree branches and  bougainvillea.
Apart from the barracks and a National Park, there is a zoo called the Jungle world, housing tigers, leopards, bears, and different species of birds. Peacocks are seen roaming around freely. There is also a theme park along with the zoo with different rides and a ghost house. I especially like to sit on rides which are not too adventurous and this park provides those because the majority of riders are children.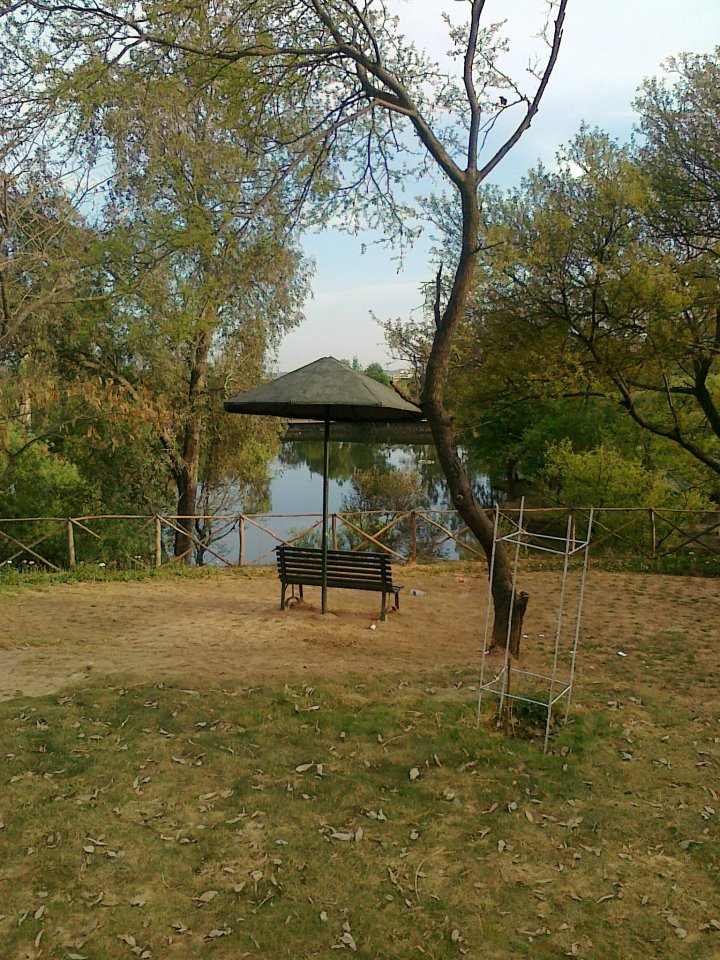 I got a chance  to use a pedal boat for two as there is boating facility on the main big lake with free ducks roaming around who can be really bossy in demanding snacks. Right next but a little further from the main lake is a Martyr's Monument as a commemorative plaque. The same area has been given a historic look with artificial caves and hills with rocky stairs and small boulders placed randomly making this area ideal for photo shoots along with the open area of the park which makes the experience very pleasant. I also found the garden landscaping very enchanting and well-taken care of, the plantation was organised yet distinctly natural giving  a plethora of space for tourists to take photos or have a picnic.
At one corner of the park, there is also a shrine of Sakhi Sarkar which I visited out of curiosity. People come here for ziarat and mannat. According to a Mureed present there, the sarkar (saint) who lived here was known for his open and soft-heartedness. He also claimed that the site is some 900 years old although this needs to be verified.