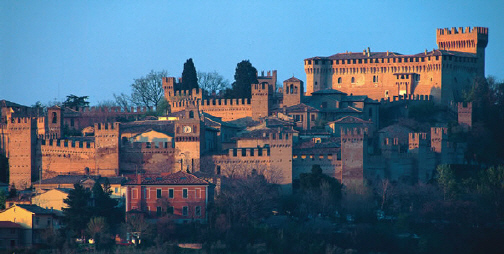 On 12th June I visited the medieval castle of Gradara with my friend Floriana.
Gradara is know to be the castle in which a scene of Dante's Divine Comedy took place, the one of the tragic love story between Paolo and Francesca, narrated in Canto V. They loved each other but Gianciotto was Francesca's promised husband. One day he discovered the two lovers kissing each other and killed them.
The castle was built in 1150 and was owned by some of the most important Italian families, such as the Della Rovere, Borgia and Medici, due to its strategic position between the Regions Marche and Emilia-Romagna. It was destroyed during World War I and then rebuilt according the previous style by Giuseppe Sacconi, the famous architect who projected the Altair of the Fartherland in Rome. The castle has been selected to be the location of many movies during the 20th century. In 1937, 1949 and 1961, when the movie 'Prince of Foxes' by Henry King won two Academy Awards, for Best Cinematography and for Best Costumes Design.
It was really nice to imagine that hundreds of people all across Europe and the entire world were visiting their local heritage sites in the same time I was. We were all united by the #makeheritagefun spirit. Also, the medieval burg was full of people, even if the day was not so good and warm, and this let me feel like I was making something important, such as discovering an old treasure.
Before entering the castle my friend and I visited an art gallery with interesting paintings, decorative art and bronze sculptures.
I haven't visited the castle since August 2015, when I took part in the 'Zombie Walk', an annual zombie themed event become a must-to-do here in Gradara. Another famous event is the 'Magic Castle', during which the city is decorated with dragons and fairies and everything becomes magic. Anyway the city is little, but beautiful and full of ceramic and medievlal weapon stores and restaurants. It is a very typical medieval burg. At the top of the castle there is a museum of armours, weapons and medieval furnitures. With its 200.000 visitors per year it is one of the most visited in the Region Marche and in Italy. When you arrive at the top of the castle you can enjoy a beautiful view before entering the museum. You can also see the Adriatic Sea from here.