Madhubani Painting:
Madhubani painting also known as Mithila painting is done with fingers, nib-pens, twigs and matchsticks. The eye catching paintings are for every occasion and festivals. Most of the Madhubani paintings depict humans and their association with nature and scenes and deity from ancient species. Madhubani which literally translates into 'Forest Of Honey' refers to a rural art form developed by the women from Mithila, an area in Bihar, India.
Makhana- A Product Of Madhubani And Its Cuisine:
Gorgon nut or Fox nut, an aquatic crop, commonly known as Makhana is a highly nutticious, fully organic non-cereal food, which is extensively grown in stagnant wayer,tank,ponds lakes and ditches.
Bihar state accounts for over 80% of the Makhana production of the country. Madhubani is a major producer of Makhana.
The popped seeds of Makhana, roasted and eaten as well as used in preparation of several delicious sweets and recipes.
Makhana, has been widely used in traditional oriental medicine to cure a variety of diseases including kidney problems, chronic diseases, excessive leucorrhea and hypofunction of spleen.
Ruins Of Navlakha Palace:
Rajnagar the closest town from Madhubani is famous for ruins of the Navlakha Palace one of the famous palaces of Maharaja of Darbhanga, that was destroyed in earthquake in 1934. Rajnagar can be easily approached by rail and is connected yia Madhubani railway station. There is a beautiful marble temple in the premises. It was dismantled piece by piece and reconstructed nearby. There is a pond near the temple. Legend has it that the maharajah liked the daughter of the temple priest so much that he married her. The temple is alone worth the visit. The palace and other set of buildings lie on complete ruins.
The Palace premise has a huge area and often fairs and other rituals take place here.
Durga Puja & Chhath Puja:
These are the two major festivals of this place. During Durga Puja, the three temples are well decorated and Goddess Durga along with Goddess Lakshmi and Goddess Saraswati are worshiped for ten days before immersing the idol. While in Chhath Puja, prayers are offered to Sun God in evening and morning. Hindus believe Sun is the father of our solar system. There is also Dawat and Ganesh Puja celebration for two days. In addition to these main festivals many other festivals are part of celebrated.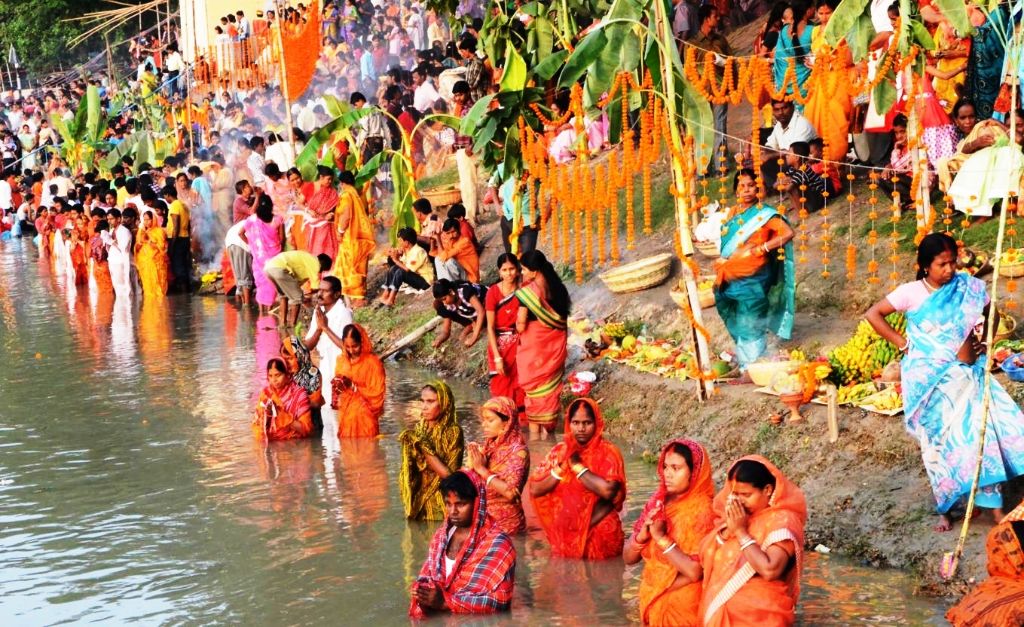 Saurath Sabha:
Saurath is a village situated 6 Km north-east of Madhubani. It is famous for being the place where thousands of Maithil Brahaman converged to fix marriage during marriage season. The people gathered at Saurath Sabha Gachchhi (Sabha means congregation and Gachchhi mean orchard in Maithili). This gathering is an annual event held in the Hindu calendar months of Jyestha-Aasadh. This was an important social congregation where the marriages of Maithil boys and girls are fixed up according to the reading of horoscope by the Panjikars (Registrars). The gathering is organised in an orchard covering 22 bighas of land that was donated by the Maharaja of Darbhanga.
References:
http://www.exoticindiaart.com/paintings/FolkArt/madhubani/
http://www.agricultureinformation.com/forums/sale/61158-makhana-fox-nut-gorgon-nut.html
http://en.wikipedia.org/wiki/Rajnagar_Bihar
http://en.wikipedia.org/wiki/Saurath_Sabha
#GoUNESCO #task-7 #GCA-2 #HometownCulture