Aurangabad in Maharashtra is mostly famous for the nearby Ajanta and Ellora caves and Bibi Ka Maqbara, also known as Taj Mahal of the Deccan. But apart from these architectural marvels , there is another form of heritage that is neglected, and that is its food heritage. Therefore, we decided to focus on the traditional food that Aurangabadi people eat, which is part of Aurangabad's intangible food heritage. The one place that we kept on hearing for its eateries is buddhi lane or budhhi gulli. While I don't why it is named like this but it is definitely a paradise for meat lovers.
Naan Qalia
The first dish that we tried was the famous naan qalia, which originated in Aurangabad during the Tughlaq period. It was the time during which the sultanate was shifted to Daulatabad from Delhi. Naan is a type of bread made in tandoor and qalia is a soupy and spicy dish made of mutton or chicken. It is surely one of the most spiciest dish that I have ever tasted. Kindly observe caution when trying it out.
Cun-tucky Chicken
Another dish that caught our eyes was a red colored deep fried chicken that was being sold in all the shops. Without wasting any time we inquired about it and got to know that it is called cun-tucky chicken, an Aurangabadi twist to the American fast-food chain. It was a bit spicy; but delicious! I asked two teenagers who ever standing nearby about the dish. They explained that since the Aurangabadis are misers and don't want to spend too much on fried chicken that is milder on their taste buds; they came up with this little piquant innovation.
Tahri
Another dish which caught our attention was a turmeric coloured rice with small buff pieces. The cost for a plate full of rice with some buff pieces was just Rs 20! To be honest it wasn't the best rice dish we have ever had but was more than value for money.  You can also call it a poor man's biryani.
Kebab platter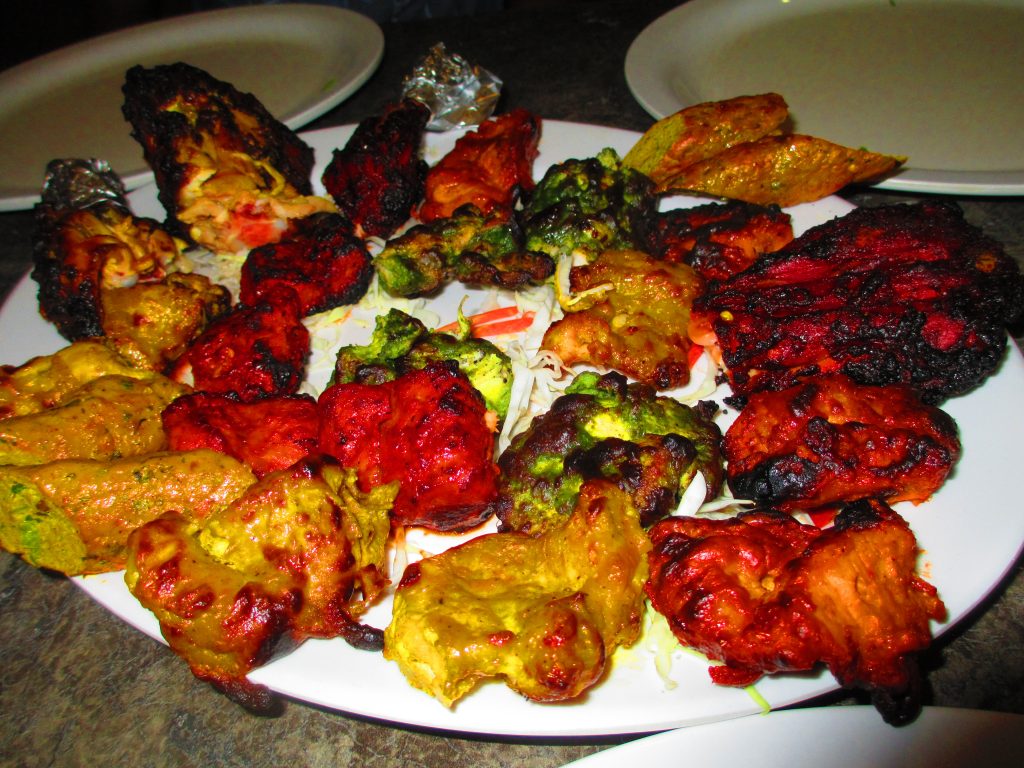 We also tried a kebab platter in Sagar Restaurant, one of the oldest in Buddhi lane, which had hariyali, burra, shami, seekh and reshmi kebabs, and fish tikkas. The tikkas were good and so were reshmi  kebabs, but rest were okay. The platter looked better than it tasted.
Mawa jalebis
To end our meat eating adventure nothing could be better than Aurangabad's own mawa jalebis .These jalebis were thick dark reddish brown coloured and are made of mawa (dried evaporated milk solids ) which I used to think that is only used in preparing burfis (an Indian sweet). They are soaked in sugary syrup and weren't crunchy like normal jalebis, but were soft.