The Indo-Pakistani War of 1971 was a direct military confrontation between India and Pakistan. The war commenced after Pakistani Forces launched pre-emptive air strikes on 11 Indian airbases on 3 December 1971, which invariably led to India's entry into the war of independence in East Pakistan on the side of Bangladeshi nationalist forces, and the commencement of hostilities with West Pakistan.
The Bollywood industry further commemorated and paid homage to the memory of this historic struggle and to the lives lost as a result with the movie Border. Directed by J. P. Dutta directed this war biopic which stars Sunny Deol, Sunil Shetty, Akshaye Khanna among others brings light upon the arduous martial struggle which the heavily depleted Indian regiment face against daunting odds.
The movie is an attempt to bring into limelight the Historic located in Rajasthan. The Pakistan Army opens Western Front against India to force away Indian effort to liberate Bangladesh from tyrant Pakistani rule. The Pakistani Army assuming that Indian Forces have only limited presence on Western Border attacks through Rajasthan in Longewala. The movie depicts true events and is not a piece of fiction as far as Battle is concerned. It's true that there was a company of only 120 men against almost 2500 Pakistani Troops along with over 60 Tanks engaged in the Battle of Longewala. The Indian Post at Longewala had strategic advantage of being at higher level and also was one of the prime reasons for shameful defeat of Pakistani Tank Column and Infantry at the hands of a handful Indians.

The characters have been carefully chosen and developed beautifully in the movie. The Battle appears almost real with men at their respective positions as in actual battle. The intensity is high and so is the depiction of morale. The Indian Air Force striking the Pakistanis in the morning was clearly seen although there was a little more role that IAF played in actual battle. The dramatic scenes are good enough to make you shed a tear for the unsung heroes.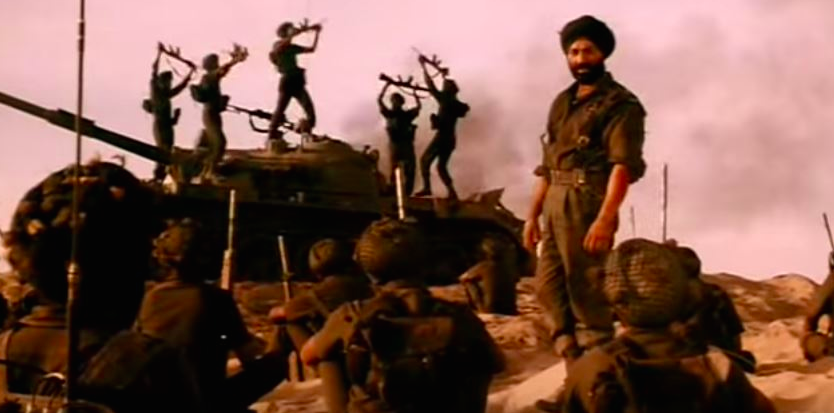 Overall the movie is great considering the complexities involved in shooting a real war scene. Its a must watch for all the people who do not know about the battle that is considered a strategic one in defeat the Pakistani Army by Indian Forces in 1971 war. Overall, the entire movie is complete with patriotic moments and is well shot and well delivered.